OCHA Report
21/10/2021 - News
More than 1,437,000 Central Africans have had to abandon their villages (722,000) or refugees in neighboring countries (715,000). The numbers have been reported in the Central African Republic situation report, published on 12 October last, by the United Nations Office for Humanitarian Affairs (OCHA).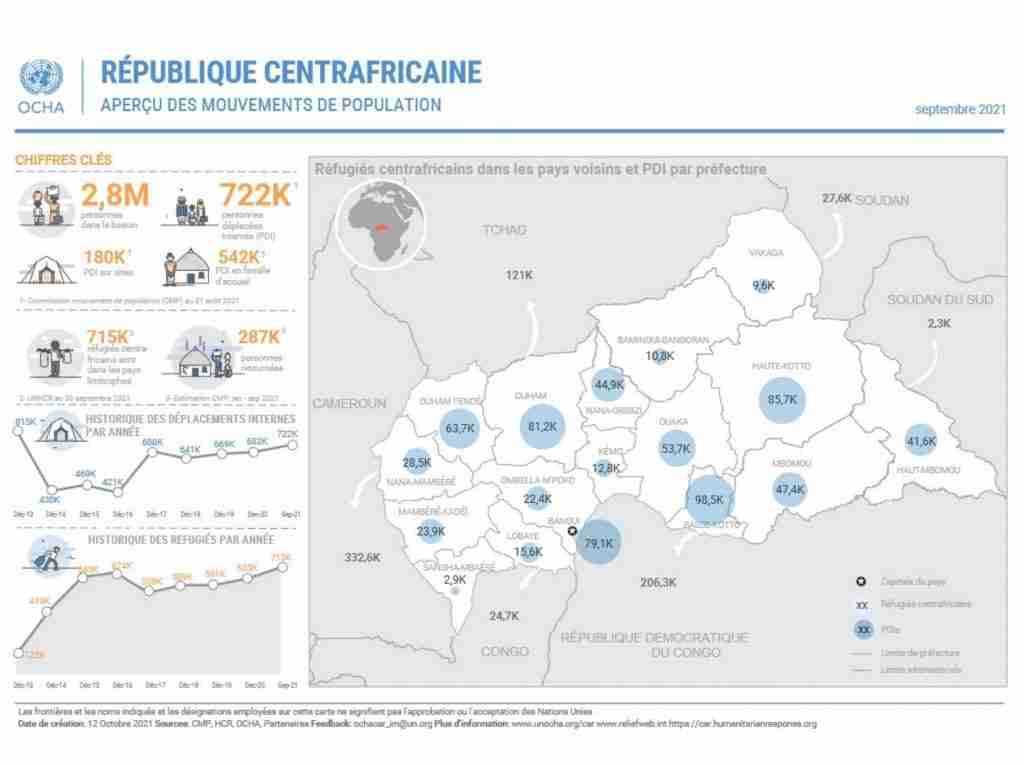 The Report provides further data that can make the situation of the country in the heart of Africa even better understood.
The threat of explosive devices continues to increase in the Central African Republic: at least 15 civilians killed between January and October 2021.
The ever-growing threat of explosive devices
Accidents involving explosive ordnance have taken on increasing proportions since mid-April 2021, particularly in the west of the Central African Republic, a region where conflict has intensified.
Between January and October 2021, over 30 incidents involving explosive devices claimed the lives of 15 civilians, including children, and injured 24 others in Nana-Mambéré, Mambéré-Kadei, Ouham-Pendé and Ouaka prefectures. The deaths took place exclusively in the west of the country.
On May 5, Father Arialdo Urbani was also the victim of the explosion of a mine hidden on the side of the road triggered by the passage of his jeep while he was returning to the mission in Niem, after visiting some villages in the savannah. In the same accident a young man who was in a car with the missionary was killed.
The victims are diverse: a family, children, a humanitarian worker, merchants, armed elements, UN peacekeepers and a priest. Explosive devices that detonate by the presence, proximity or contact of a person cannot distinguish between civilians and combatants, raising important concerns about the principles of distinction and proportionality under international humanitarian law.
Some incidents involving explosive devices were also reported from other parts of the Central African Republic. But the main focus of the recent increase remains on the west, notably Nana-Mambéré, Mambéré-Kadéï and Ouham Pendé on the border with Cameroon.
In July 2020, the suspected use of anti-vehicle mines was first reported in the country since the UN peacekeeping mission MINUSCA was established in 2014. One of the suspected devices damaged a MINUSCA tank near the border with Cameroon. After a relative calm between July 2020 and April 2021, the problem has taken on dangerous dimensions with serious consequences for civilia